Willard Clark Woodcut Tools
Relief wood printing blocks are one of the earliest methods of image reproduction, used even before the invention of the printing press. This form of illustration reached new levels of artistry during the 19th century when woodcuts were featured in popular magazines and newspapers. It was phased out of commercial use when photographic reproduction came along. In New Mexico, the woodcut was kept alive during the 1900s by Gustave Baumann and Willard Clark who used their skillfully carved blocks in private press work. All tools courtesy of Kevin Ryan, Santa Fe, New Mexico.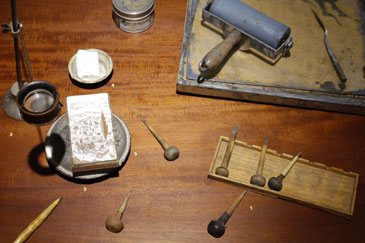 Photography ©2005 Blair Clark.
Gouges and Gravers. Made by Willard Clark and designed to cut relief wood printing blocks.
Magnifying Glass. Useful in doing fine wood engraving.
Sand Filled Leather Pad. For stabilizing and manipulating the block during the cutting process.
Chalk. Rubbed into the lines of a wood engraving to make the design show up clearly.
Willard Clark Woodcut. Clark favored boxwood for engraving but also used cherry and maple woods.
Ink.
Brayer and palette knife on mixing glass.